Who We Are
Hill of Tara Wines pursues our lifelong dream of organically farming our own grapes and handcrafting our own wines.
We are winegrowers and winemakers.
In 2015, we scraped together our life savings and began our journey farming our first vineyard and picking one-ton of Cabernet Sauvignon grapes from the Moon Mountain District. With 120 gallons in two french oak barrels, we were surely California's smallest bonded Winery amongst the dimly lit, far back corner of our friend's warehouse in Sonoma.
We have crafted four small lot Cabernet Sauvignon vintages (2015, 2016, 2017, & 2018) from MoonRidge Vineyard within the Moon Mountain District of Sonoma Valley. In 2018, we plan on introducing a Cabernet Franc from Cabak Vineyard which we've been organically farming since 2015, as well as a Red Blend.
We are dedicated.
For the last four years, we have been patiently crafting our wines and diligently farming our grapes. We have dedicated ourselves in creating an authentic brand that is a pure expression of our love, our passion, and our life. Life students of wine, we are humbled to have this opportunity. Our focus is quality before quantity in both the vineyard and the cellar. We believe in a long term vision, slowly increasing our production by one barrel each vintage. Our goal with each wine is to achieve a harmonious balance of powerful elegance and complexity; wines that share a purpose and a story. We barrel age each wine for a minimum of 20 months and bottle age for a minimum of 20 months prior to release. We believe our patience will be rewarded.
We are a small family team.
Between Matt and Danny in the Vineyard and Cellar, and Katie in Marketing (and sometimes in the Vineyard when needed), the three of us are Hill of Tara Wines. Proudly based out of Sonoma Valley, California, we have been blessed to be a part of the wine community for the past 10 years. Our wine growing and winemaking dreams would not be possible without the wisdom and education from our mentors and our relationships with local wine legends. We are forever grateful and indebted to you all.
We have poured our heart and soul into Hill of Tara Wines, and are so thrilled to share our wines with you. We hope our story and wines inspire you to pursue your passion and dreams. Thank you so much for your support and interest!
DANNY FAY |
Co-founder,

Winemaker + Winegrower
Born in Oxford, England, Danny grew up in Ducklington, a small village with more ducks than people in the West Cotswolds of Oxfordshire. At nine years old, Danny immigrated to California with his family and settled in the Sonoma Valley in 1994. He attended Cal Poly San Luis Obispo and completed a Wine & Viticulture degree, inspired by Professors Phil Doub & Dr. Keith Patterson, founders of the Wine & Viticulture department. Upon graduation, Danny moved back home to Sonoma Valley and began working at Benziger Family Winery.
Spending time on Benziger's certified biodynamic ranch, Danny was exposed to the teachings and inspirations of Mike Benziger and Alan York. In 2009, Danny sold everything he owned and backpacked around the world to learn more about organic and biodynamic farming while attending Ecole de Management's Wine MBA program in Bordeaux, France. Through an adventurous 22-month, global wine program, Danny lived, worked, and studied in dozens of wine regions all over the world. Inspired by farm visits, wine harvests, biodynamic workshops, and deep conversations with legendary organic and biodynamic farmers, Danny had found his passion for farming.
Upon graduation from Bordeaux's Wine MBA program in 2011, he formed "Envolve Winery" with two childhood friends and began organically farming and crafting wines from different Sonoma appellations. Focused on Sonoma grapes, philanthropy, and fun, Envolve was a great experience for Danny to build his winery management skillset, improve his organic farming experience, and give back to his local, hometown community. From 2013 to 2016, Danny served as Vice President for Sonoma Valley Vintners and Growers Alliance and Board Member and Mentor for Sonoma Valley Mentoring Alliance. In 2015, Envolve Winery sold to Valley Of The Moon Winery and Danny took the leap of faith with Katie to start their own wine brand. Hill of Tara Wines is a proud expression for their love for farming, family, and sharing amazing wines with each other.
Today, Danny farms our Cabernet Franc vineyard with Matt and handles all our finance, strategy, sales and wine production duties.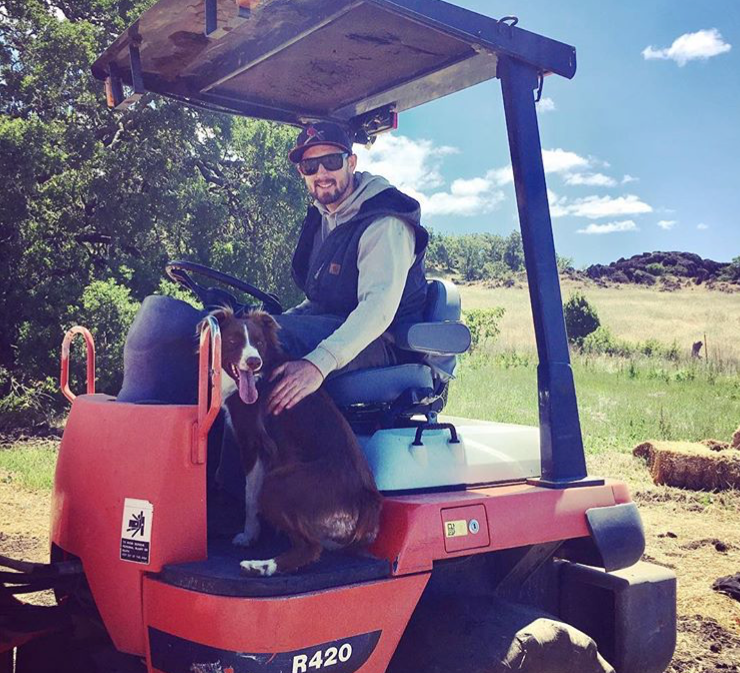 MATT SIMPSON |
Vineyard Manager
Matt is the newest member of our Fay family, marrying Danny's sister, Colette, on December 26th, 2017. Part Macgyver, part McFarmer, Matt is a talented tradesman with a business background, a farming passion and a hell of a split finger fastball. Danny and Matt have been farming vineyards together since 2015 and he's become more than just a brother-in-law, he's now Danny's close friend, a true brother, and hard working business partner.
Matt is a native to Sonoma Valley. He grew up amongst the vines from a young age. After obtaining a Business Degree from Menlo College, Matt returned to the valley and joined Enterprise Vineyards learning organic and biodynamic farming practices from legendary grape grower Phil Coturri. Matt's farming practices parallel Phil's visions of a purely organic farm where monoculture is a thing of the past. Cover crops, insectaries, natural fertilizers and love for microorganisms are all brought full circle in the ranches he farms. Through these farming techniques he seeks to farm only the highest quality grapes which in turn produce prestigious wines that reflect the terroir of respected ranches.
A man who gives a lot and asks for little in return, Matt is an integral part of our success in the vineyard. Danny and Katie are so grateful Colette signed him up for life. You'll find Matt in the vineyards most afternoons or fixing something in the shop. Without Matt's talents we would not be able to farm our vineyards with the care and love that we strive to give. Matt currently lives in Sonoma with Danny's favorite sister, Colette, and is the proud Father of Bailey, their fur child.
KATIE FAY |
co-founder,
sales + marketing
Katie has always had an affinity for meeting new people and building relationships. While applying for Colleges during High School at the height of the recession, Katie's Dad, Lance, mentioned that finding a niche market such as the wine industry could be an amazing opportunity to pursue. After her Dad purchased the book, "How to Launch Your Wine Career" written by Liz Thach, Ph.D., and Brian D'Emilio as a present for Katie to help direct her decision, she immediately knew after the first few chapters that the wine industry was a path she wanted to explore (not only for the wine!).
Originally from the small town of Ojai, California, Katie headed to Northern California to attend Sonoma State University where she graduated with a B.S. in Wine Business Strategies and dove head first into her wine career. Katie's first job in the wine industry was at Kosta Browne Winery in Sebastopol, California as their very first Marketing Intern. It was there she built her foundation, knowledge, and drive to pursue her dream in the wine industry. "Kosta Browne started as a passion project, and after endless hard work and drive has become one of the most sought after wines in the world. This gave me the determination to continue my wine career path and goal of eventually starting a brand of my own." Katie has continued to build her career in wine at some of the most renowned wineries in Napa and Sonoma Counties, including Chateau Montelena, Three Sticks Wines, Banshee Wines and currently, Lambert Bridge Winery.
Wine is the perfect outlet to feed her love of life, people, and learning. She is inspired by the connection to the land in which they farm, the artistic craft of winemaking, and telling that story in every bottle shared.
Katie began the Hill of Tara Wines journey with Danny in 2015. "Danny and I both love how we are continually learning and growing in this process. I feel extremely grateful and fortunate to be a part of the ride and pursue our dream together." Katie's creativity has been key in creating our branding and marketing strategies for Hill of Tara. Moving forward, she will spearhead our allocation offerings, client relations, and all marketing + events duties.